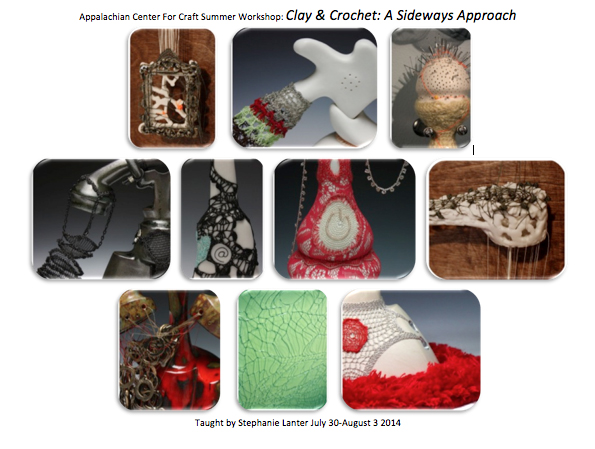 Appalachian Center For Craft Summer Workshop:
Clay & Crochet: A Sideways Approach
Are you mixed-media curious?
Like things both hard and soft?
Searching for new 'skins'?
Experimental in spirit?
Come be one of the first forward-thinking students to experience a
brand new
type of workshop at the Appalachian Center For Craft this summer:
the
Interdisciplinary Half-Week
!
Thurs. July 30 – Sun., Aug. 3
For a mere 4 ½ days, we will unravel your ceramic surfacing safety nets and tie new and exciting knots between your forming and finishing processes. We will unwind new threads from that great spinning mind of yours as we explore various ways to combine clay and fiber. We will address clay in all stages (slip to plastic to fired) with approaches ranging from traditional to improvisational. Techniques such as crochet, netting, stitching, latch-hook, and knitting will be addressed as construction and completion concepts, and we will develop these ways to weave together your personal ideas more tightly and beautifully.
Due perhaps to its novelty and innovative format, this workshop still has room for more fearless artists. No prior knowledge of fibers necessary at all! (However, some experience in clay would be beneficial.)
Don't miss out on this exciting direction at a school rich in tradition, history and facility. Come discover the wooded and lakeside Tennessee beauty of the Craft Center for yourself!
For more information, visit the Appalachian Center for Crafts website at
http://www.tntech.edu/craftcenter/workshops/
Contact
Lindsey Maestri at
lmaestri@tntech.edu
or call (931) 372-3051 to register
or with any questions, including scholarship possibilities.
Don't hesitate to contact me directly with questions about the workshop itself!
stephanie@stephanielanter.com